download PDF: Fuck You
19 pages, 4,6 Mb
right mouse click on
"download" > "safe link as "


Please do not open this e-book in your internet browser by merely clicking on the link. First you download the file to your harddisk
Then open it with Acrobat Reader, where it will start in the "full screen mode". Excluding all the programs peripheral elements like menues etc will consideringly improve your reading pleasure.

Don't have the Acrobat Reader?
Download its latest version for free at www.adobe.com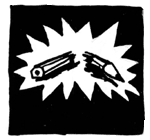 This e-book was provided by its author for free download, to read on the screen.


Fuck you!
Ludmilla Bartscht

In the movies, love stories mostly conclude with a happy ending. In real life, most love stories end with a break up, and not always a mutual one.
One person goes, another person stays behind.
In him, a barmy mix of emotions awaits explosion: Lost love, home sickness, hope, violent fantasies, lust for revenge, hate.
Ludmilla Bartscht drafts a frustrated lovers inner monologue with haunting pictural poetry.