download PDF: Vorwärts Galerie
64 pages, 21 MB

right mouse click on "download" > "safe link as "


Please do not open this e-book in your internet browser by merely clicking on the link. First you download the file to your harddisk
Then open it with Acrobat Reader, where it will start in the "full screen mode". Excluding all the programs peripheral elements like menues etc will consideringly improve your reading pleasure.

Don't have the Acrobat Reader?
Download its latest version for free at www.adobe.com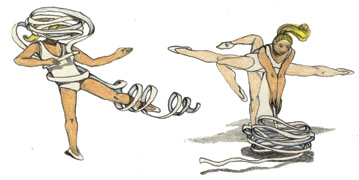 Forward Gallery
Maria Luisa Witte
Emplyoing a "kaleidogrammar" of free floating sentences made from strings of graphic associations, Maria Luisa Witte is drawing a picture narrative whose plot consists of the permanent mutation of forms, colors and contrasts. Soon enough, the viewer is swimming happily along with the inexhaustible change of her creatures. Yet, the jumps of signification created by those changes, from flat to fat, soft to sour, remain a brutal "contrast bath".
Maria Luisa Witte was born 1974 in Buenos Aires, raised in Hamburg. After studiing at the Haw Hamburg, she lived in the Ruhrgebiet and now in Hamburg again. In addition to many of her own projects, she is am member of the SPRING Group.
www.marialuisa.de
This e-book was provided by its author for free download, to read on the screen.